The Nkoabang Center for the Promotion of Socio-Economic Activities welcomed twelve young learners on Monday, April 16, 2018 for a one-year training in agrosilvopastoral professions. The ceremony was chaired by the Reverend Sister Director of the "Centres d'Accueil de l'Espoir" (CAES) who personally wanted to welcome the young recruits.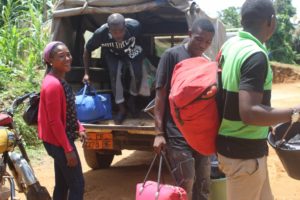 It is 13h15min when the cars of the centers of reception of the hope arrived at the center of promotion of the socioeconomic activities of Nkoabang with on board the twelve new learners coming from the districts of Yaoundé VI and SOA. 50% of the previously selected young people who took part in the impregnation visit declared themselves to be willing and able to complete the training.
As is customary, the Sister Director of the CAES welcomed the young volunteer learners who wanted to reinvent themselves in agriculture by sending their encouragement. Because, these last ones crossed the step unlike their companions of the visit of impregnation which finally desisted. In the same aim, the latter to continue his remarks by insisting on the discipline and the will which are the main qualities that must be put everyone among the 12 recruits. Thus, it is important to note that only the most disciplined, conscientious and voluntary will be installed by the association.