The Orthodox priests alongside the residents of the Temporary Home Center of Efoulan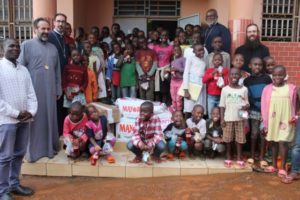 A part of the clergy of the Orthodox Church Greek from Cameroon, based in the Bastos in Yaounde district, under the leadership of Bishop GREGORY, has once more made visits to orphans and vulnerable children supervised by the Temporary Home Center of Efoulan ''THCE'' Monday, April 16, 2018 at 17heures following the Orthodox Easter celebration held on 08 April 2018.
Welcomed by residents, staff and the Reverend sister CEO, these men of God brought many gifts in foodstuffs and also small packets of sweets containing a cross inside to remind children the resurrection of our Lord Jésus Christ where the refrain repeated in each sequence of the visit "Christ is risen Alleluia, he is truly risen".
Speaking Monsignor Gregory leader expressed his gratitude to the place of the Reverend sister for two reasons: firstly for his love and devotion for the needy and secondly for the opportunity it gives them to live sharing to be close to the vulnerable layer through its Center.